Saturday, September 24, 2005
An Email From Myself?
Here's something interesting.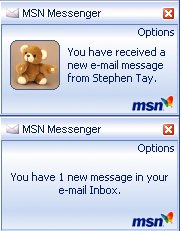 Weird huh?
Tags:
Weird
About Me
Name: Steph
Location: Jurong East, Singapore
Steph here means Stephen and not Stephanie. I use Steph as my family and friends call me "Steph" which sounds way much better than "Xi Di Fen". I am now in NTU studying Materials Engineering :) Hope that you'll enjoy your time spent in my blog :D
Steph's Top 3 Posts
Your Say
Stories By Me
Updated: 14 Sep 08
Previous Posts
Blogs
Contact Me
This work is licensed under a
Creative Commons Attribution-NonCommercial-NoDerivs 2.5 License
.